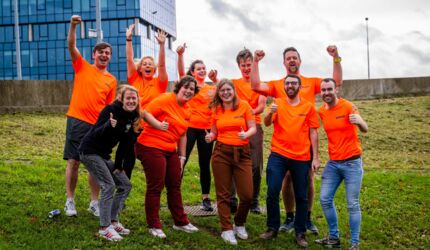 This is part of the Best Us Program, a series of activities that the Marathon's third time title sponsor organizes to support a healthy lifestyle amongst its employees.
Sofico selected 10 motivated employees from all over the world (Belgium, UK, Australia, etc.), with little or no previous running experience who are keen to complete a half marathon on March 26, during the Sofico Ghent Marathon. In collaboration with Energy Lab, they started their challenge by taking a fitness test, had a full body scan, received help to pick the best running gear, and precious guidance on training and nutrition from their personal coaches.
During five months, all ten ambassadors are following their training programs. They are documenting their progress in regular blogs and vlogs, so their colleagues can follow them on their journey.
As part of the company-wide Best Us program, all employees can participate in several more activities. For instance, four matter experts have been invited to share their knowledge on: work/life balance and creating healthy habits, nutrition, injury prevention and stress detection. Colleagues can join a Strava group, find running buddies and meet each other at various sportive (or less sportive) challenges. For instance, in January, teams of two Soficans will aim to reach 999 active minutes in three weeks to raise money for Doctors without Borders.
Time will fly up to March 26, follow us for more updates until then!